Main fields of research
The main research topics in the Department of Plasma Technology are the development, diagnostic and numerical simulation of large-scale, large-volume microwave plasmas generated both at low and at atmospheric pressure.
Plasma sources
Our linearly extended plasma sources are in particular well suited for deposition and treatment processes for many industrial applications. Such sources are employed above all in photovoltaic systems and microelectronics for the production of protective and passivation layers as well as electrical insulation barriers. At IGVP a process for high rate deposition of e.g. scratch-resistant layers on polycarbonate was developed. By means of suitable plasma-enhanced techniques for treatment of plastic, the diffusion of gases and liquids can be strongly reduced. This can find applications in the packaging industry, e.g. for plastic foils and containers, and as diffusion barriers in fuel cells.
Plasma-induced gas conversion
Additionally to numerous other research activities we investigate the plasma-induced gas conversion into more valuable chemicals or for the storage of renewable energies . One promising process is the CO 2 conversion into syngas or higher hydrocarbons via our microwave plasma torches at atmospheric pressure.
Plasma diagnostics
Further long-term expertise lays in plasma diagnostics by means of optical emission spectroscopy and Langmuir probes. For this purpose, a broad range of spectrometers from UV to VIS with different resolutions are available. The aim is to analyze the reactive particles in the plasma, preferably with a high spatial and, if necessary, time resolution. As a consequence, this results in the determination of fundamental plasma parameters such as gas temperature, electron density and temperature.
Plasma processes
Plasma sources
Simulation
Research projects
Open positions
There are always opportunities to participate in our group's research.

Especially for our research projects we are looking for Bachelor-, Master- and PhD-students. Please do not hesitate to contact Andreas Schulz or one of our group members.
Matthias Walker
Dr.-Ing.
Head of Administration / Head of Plasma Technology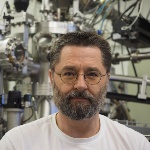 Andreas Schulz
Dr.-Ing.
Research associate, Plasma Technology