Welcome to Stuttgart
Dear ERASMUS MUNDUS students
This page contains some general information to help you get settled in Stuttgart.
The date of your arrival is usually determined by the start of the German course, which starts on the first workday of September. You will stay until July or August, until you have completed your examinations.
Academic calendar
Please refer to the academic calendar https://www.uni-stuttgart.de/en/study/application/academic-calendar/ for semester dates, lecture free periods, and holidays.
Additional important dates are:
registration (not enrolment) at the university during May
the confirmation of dorm rooms + first rent payment sometime in July/August
the mandatory intensive German language course from the beginning of September to mid-October
the meeting in Cadarache in March
the summer event in July
Where to stay
Living expenses in Stuttgart are about 750 € per month. Student housing is available on the university campus in Stuttgart-Vaihingen (S-Bahn/Metro station "Universität"), where all your courses are going to be. This is the easiest solution and it is also reasonably priced. It is therefore highly recommended that you apply for student housing (see below). More information about the dorms is at https://www.studierendenwerk-stuttgart.de/en/onlinebewerbung-wohnen
Important notes regarding student dorms:
you are usually given preference over non-exchange students. You apply for housing when you register here. But you can still apply as early here https://www.uni-stuttgart.de/en/study/application/international-non-degree/erasmus/ (you do not need to be enrolled to apply)
only students are allowed to live in the dorms (no family)
student housing keys can only be received on weekdays (but you can try to arrange for someone else to pick them up via the welcoming service)
sometime in July/August, you must pay a security deposit and rent to secure your room. You must be reachable by email for this
you will have a standard room for one person on the Vaihingen campus. The stay will usually be from September 1st to August 31st in the following year, as you will have exams throughout August.
Finding a room on the free market can be very hard from outside! It may be more advisable to get short term accommodations in Stuttgart and then look for private accomodation. General information is available at https://www.studierendenwerk-stuttgart.de/en/accommodation/
Short term housing (e.g. to bridge those few days between arrival and the start of your lease) is available at the student hotel or at the youth hostel:
The IA also has list of short term housing options: http://www.ia.uni-stuttgart.de/internat/practical/accomm/temporary/index.en.html. Especially the option of sub-leasing a dorm room http://www.studierendenwerk-stuttgart.de/en/short-term-rent is useful for terms shorter than a semester.
If you are doing your thesis work at IPP in Garching/Greifswald or at KIT in Karlsruhe, please contact your advisor there for information on housing.
Semester Fees
You have to pay the semester fees personally by bank transfer before each semester. The fees are outlined here: https://www.student.uni-stuttgart.de/en/organizing-studies/formalities/tuition-and-fees/tuition-fee/
After you have paid, you will be reimbursed for the fees by the consortium, because all local fees are included in the fee you pay to the FUSION-EP program. The same procedure applies to the German course.
Non-EU students can apply for an exemption to the 1500€ fee. The deadline is August or February 15 for winter/summer semester. See the above link, section "Strong ties to Germany".
Courses
Your courses for the semester can include courses at KIT Karlsruhe. The courses page also contains links to course descriptions.
We will have a kick-off meeting before lectures start, where we will go through your time table together. You will choose your electives in October, when the lecture period begins.
If you have more questions, do not hesitate to contact me.
Health Insurance
The consortium will provide minimal private health insurance. In Germany, students are usually expected to buy the standard public health insurance at one of the local "Krankenkassen". All private health insurers in Germany provide at least the same level of protection as the public insurance, usually at lower prices because students tend to be young and healthy.
If you have a non-standard health insurance (like the one from the consortium), you will need a waiver to present to the university enrollment office. You cannot be enrolled without either proof of German insurance or waiver.
German public health insurance is comprehensive, and they must take you, no matter how sick you already are. Our general advice is to take it, even though it is an extra monthly cost.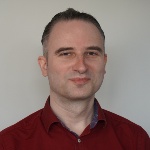 Carsten Lechte
Dr. rer. nat.
Leader, Microwave Technology