When a solid surface comes in contact with a liquid, the complex effects of the surface morphology (roughness), its chemical composition and the short- and long-ranged intermolecular forces developing with the liquid (van der Waals' forces, hydrogen polar bonding, electrostatic attractions with lone electrons pairs, etc…) determine an equilibrium condition in which the surface may or may not be wetted by the liquid, depending on how much favorable the interactions between the two are.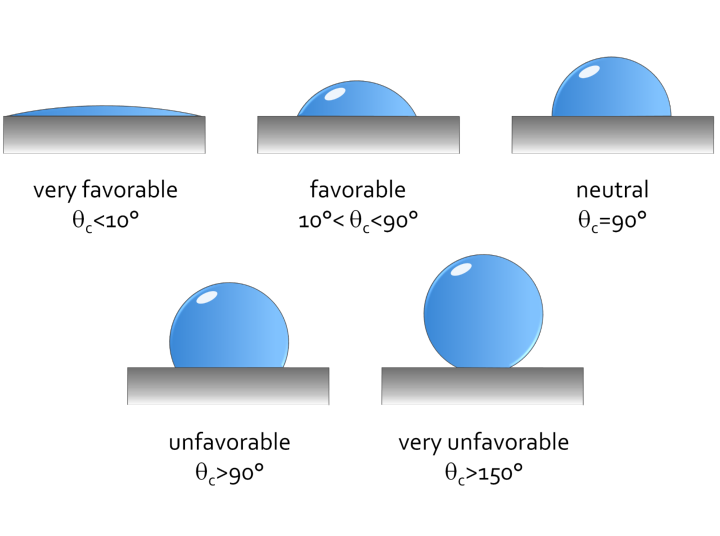 To alter surface wettability
Plasma treatment, both at atmospheric and low pressure, can be readily employed for such purposes: depending on the chosen gas feeding the plasma, it is in fact possible to selectively graft functional groups that can either increase or decrease the wettability of a wide choice of substrates, including commercially widespread polymers like plastics.
The ability to alter surface wettability finds countless applications, ranging from microfluidics and lab-on-chip devices, where it can be used to separate blood components, biomedical engineering, as it can promote or discourage the growth of living cells on a surface, and so on. Even extreme behaviors like superhydrophilicity and superhydrophobicity are finding increasingly wider application: the former can prevent haziness on a wet transparent surface ('anti-fogging'), while the latter can be used for self-cleaning surfaces, on which water droplets roll off, taking dirt and dust particles away.
Mariagrazia Troia M.Sc.
Ph. D. Student, Plasma Technology
Matthias Walker
Dr.-Ing.
Head of Administration / Head of Plasma Technology