Silicon nitride layers
Silicon nitride Si3N4 is a ceramic material, which is characterized by a high temperature resistance and high hardness. If it is deposited in a plasma process an amorphous layer structure results which above all has a large barrier effect against metal atoms. Silicon nitride is therefore often used as a diffusion barrier in semiconductor technology. In addition, silicon nitride layers are used on silicon solar cells as they minimize the loss of carrier losses through a passivation of the silicon surface and increase the cell efficiency.
Quartz layers
Quartz SiO2 is known as a hard and transparent material. Its temperature and chemical resistance makes it suitable for corrosion protection and hard coatings as well as for coatings in optics and microelectronics. Plasma-technologically produced quartz and quartz-like coatings can be tailored to the respective requirements by selecting the deposition conditions from soft polymer-like to hard polycrystalline layers. Multilayer coatings for optical filters are created by recurring changes in the gas composition during the plasma process.
Matthias Walker
Dr.-Ing.
Head of Administration / Head of Plasma Technology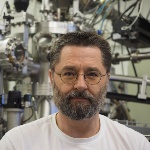 Andreas Schulz
Dr.-Ing.
Research associate, Plasma Technology