A dielectric barrier discharge (DBD) is ignited by applying a high voltage between two electrodes, wherein at least one of the electrodes is insulated by a dielectric. By using the insulation, the occurrence of an arc discharge is prevented. Instead, many fine plasma filaments usually form between the electrodes, but they only have a very short lifetime in the range of a few nanoseconds. The reason for this is the accumulation of the charge carriers on the dielectric surface, which generate an opposing field to the externally applied voltage, so that the discharge disappears again. Therefore, DBDs are operated with AC voltage at typically several kilohertz.
DBDs can be generated both in low and at atmospheric pressure, with their special properties especially showing at atmospheric pressure. Due to the low lifetime of the discharge, the heavy particles can absorb far less energy from the alternating field than the lighter and faster electrons. The DBD is therefore a non-thermal "cold" plasma in which the electrons have a high temperature, but the neutral gas and the ions are at about room temperature. This also allows temperature-sensitive materials to be treated with this type of discharge.
DBDs are used in a wide range of applications, including ozone and UV generation, air and wastewater treatment, sterilization of packaging and food, as well as activation, cleaning, etching and coating of surfaces. An advantage of the DBD is that it can be brought into different shapes and sizes by the free electrode and dielectric configuration and thus can be very well adapted to a particular application.
At IGVP, various DBD configurations are being developed, manufactured, diagnostically characterized and their effects studied for applications such as exhaust air treatment, surface activation or food sterilization.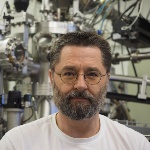 Andreas Schulz
Dr.-Ing.
Research associate, Plasma Technology