The Planartron resembles a duo-plasmaline array. Here, the parallel quartz tubes are combined into a single quartz plate that separates the normal pressure range from the plasma zone at low pressure. The microwave propagates as a free wave in a semi-coaxial waveguide with a meander structure.
When this structure is used, the microwave is guided homogeneously through the quartz plate and a homogeneous plasma is formed on the surface of the quartz plate in the low-pressure range.
Planartron reactor operating with different gases
Video is not available. Edit element for more information ...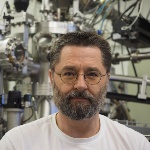 Andreas Schulz
Dr.-Ing.
Research associate, Plasma Technology